Summary Tab (Address / Timezone / Business Schedule)
By clicking the Edit button, you can edit the name of the location, the timezone, the Business Schedule associated with the location, and the location's address:

Procedures Tab
Procedures in Patient Prism are the associated opportunity names and values we apply to calls within our system. We apply these procedures to calls when the patient states that they are calling for an associated procedure. So if they call in for a cleaning, we will apply the "Basic Cleaning" procedure and value.

If you would like to add, remove or edit a procedure, you can do so.
Adding a new one will allow our system to tag the call with that procedure if the patient mentions it on the phone.
Removing/Deleting would make it so we would no longer add the procedure. Removing a procedure is recommended if you do not offer that service.
Editing the procedure will allow you to assign a new value if our standard cost associated is not to your liking.
Users Tab
You can see all users associated with the location that you are viewing.
You can then add or remove users to this location from this tab.
Call Basics Tab
Here, you will be able to manage which of our call basics are applied to new and existing opportunity phone calls.
You can deselect a call basic by clicking the button next to it and then saving.
If this is done, going forward, this call basic will no longer be applicable to being selected on a phone call.
For example, if you do not offer free consultation, we recommend removing this Call Basic: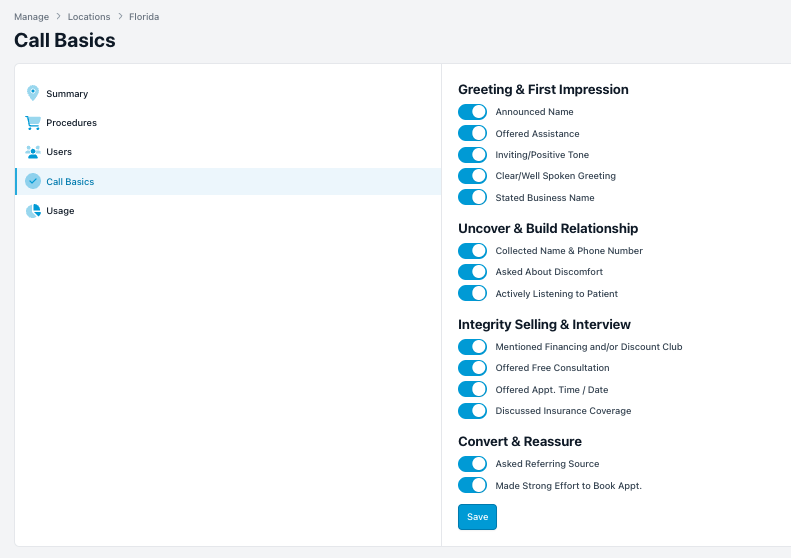 Usage Tab
This tab will show you your usage for the month (and previous months).
Please note these metrics are in seconds, not minutes.